Developed from scratch, this multiplatform EGC & LES decoder gives the curious radio amateur an insight into the Inmarsat-C satellite communication system from the 90s still in use today by mariners worldwide.
EGC
You will be able to receive the Enhanced Group Call (EGC) service. This is a low speed message broadcast service with global coverage (except the poles). SafetyNET is used for broadcasting Maritime Safety Information (MSI) such as navigational warnings, meteorological warnings, meteorological forecasts. Additionally you may receive messages of more urgent, dynamic nature such Search and Rescue Operations, tsunami warnings etc.
Mapping of "standard EGC" messages (circles / rectangles)
Tune your receiver to the NCS channel for your ocean region. That is ONE channel per Inmarsat-C satellite. You will receive navigational messages classified as Safety / Priority / Urgency / Distress. It's common to receive SAR (Search And Rescue) alerts or other messages addressed to a particular geographical area. The standardized messages can address areas shaped as a rectangles or a circles.
Mapping of "non standard EGC" messages (polygons)
Besides "circular" and "rectangular" areas, the latest version analyzes the message content and attempts to intepret coordinates belonging to areas, buoys, oil-rigs etc. The images below have been automatically generated by this process. This is an experimental feature.
Mapping of buoy and oil rigs
Tab1 – Terminal
The classic window that spits out data from NCS and LES channels (all messages are processed and displayed in their entirety)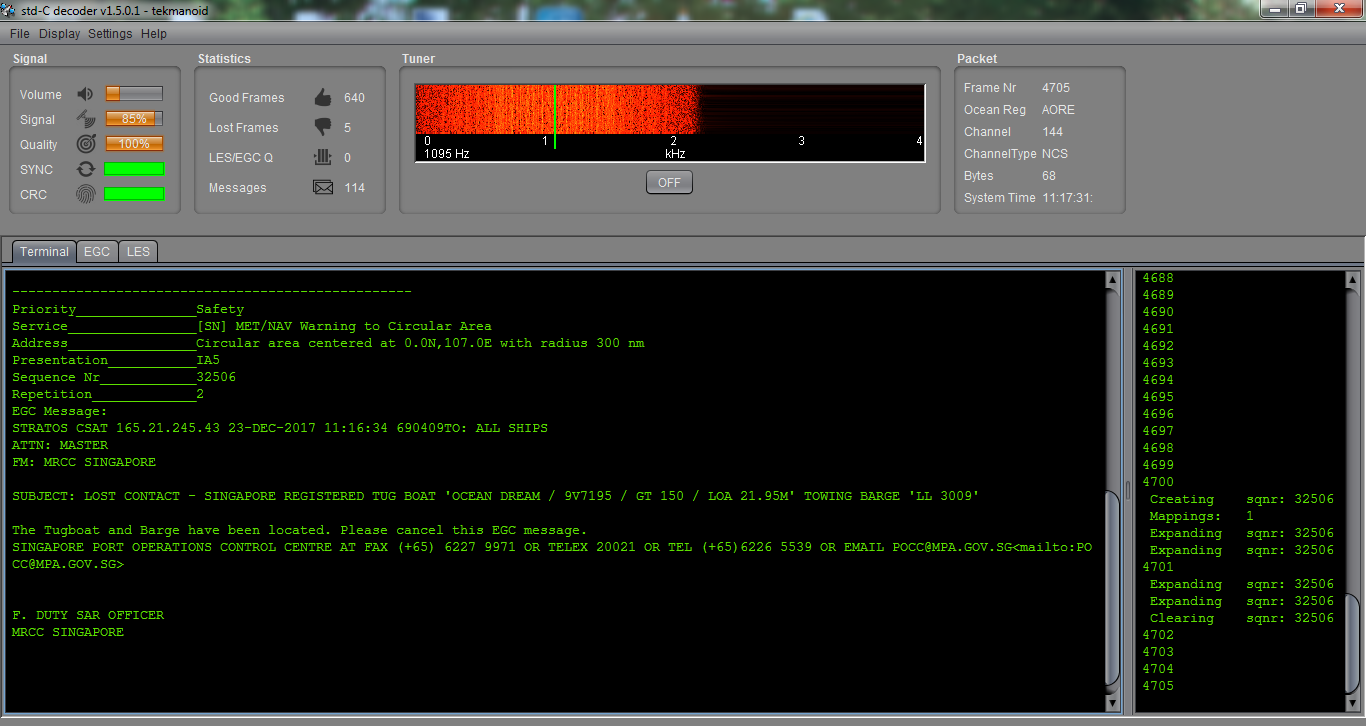 Tab2 – EGC
Depending on the EGC message, the map will be either hidden or shown.

Tab3 – LES
The decoder enables you receive traffic from LES channels. You have so much more to explore! Non-text, binary messages are analyzed and placed in a folder with the correct extension (PDF, PNG, ZIP etc) appended.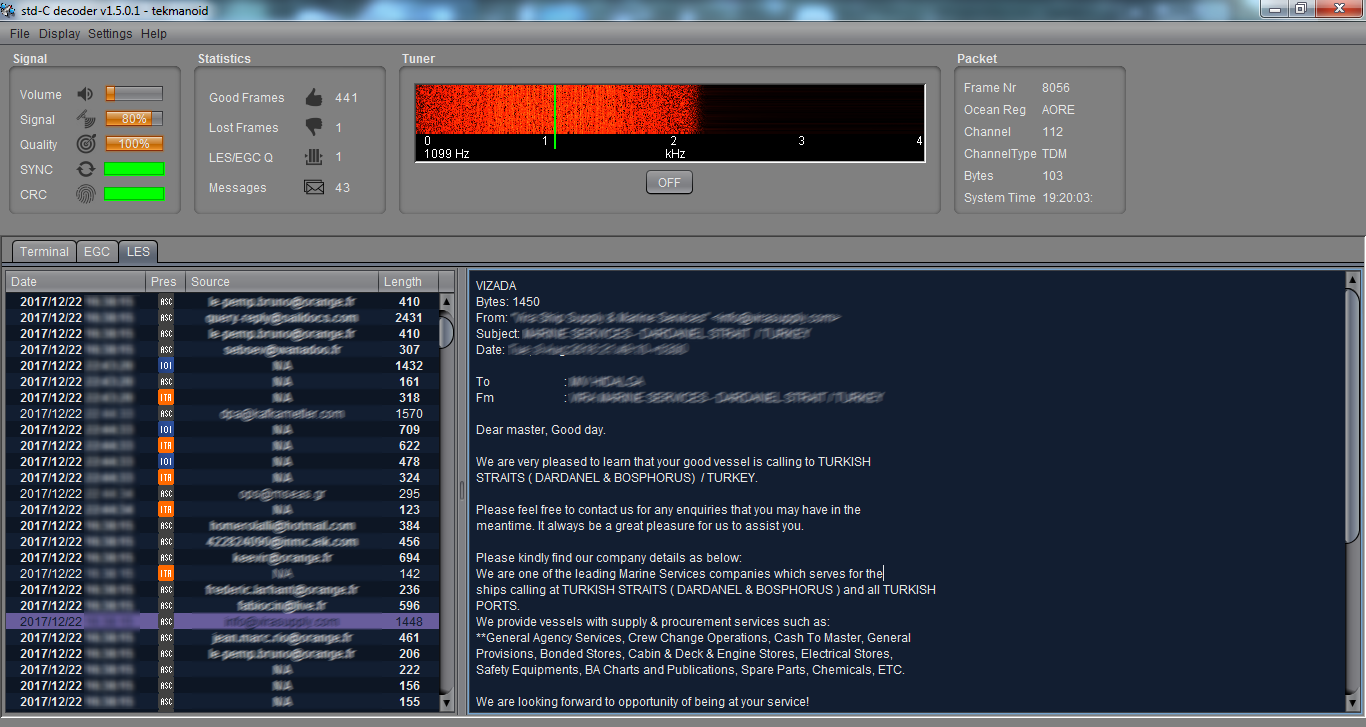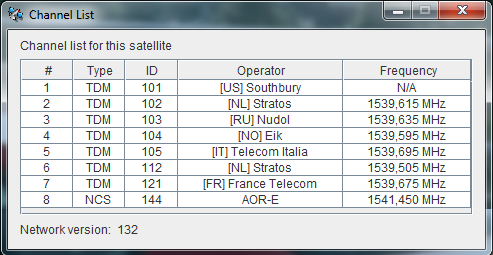 Requirements:
Analog radio
Comm. Receiver covering 1550 MHz in USB mode
Dish or patch antenna for 1550 MHz
LNA for 1550 MHz right after antenna.
Suitable audio cable between receiver and PC soundcard.
PC with soundcard
Java Runtime Engine: JRE v1.8 or JDK11 by Azul Zulu with JavaFX
SDR
SDR dongle/radio covering 1550 MHz
Dish or patch antenna for 1550 MHz
LNA for 1550 MHz right after antenna.
USB extension cord
Java Runtime Engine: JRE v1.8 or JDK11 by Azul Zulu with JavaFX
Version
v1.5.6.2 (built 9th May 2022)
Provided strictly for private hobby use. No demo available.

For information on price / payment method etc contact me on:
admin @ tekmanoid.com
For current users: the update is provided for free. Contact me if you haven't received it.
Just released
The new update includes:
Filtering options on the EGC table (see screenshot)
Sat-Region/Channel columns on the EGC/LES tables respectively
better extraction of MES/email source tags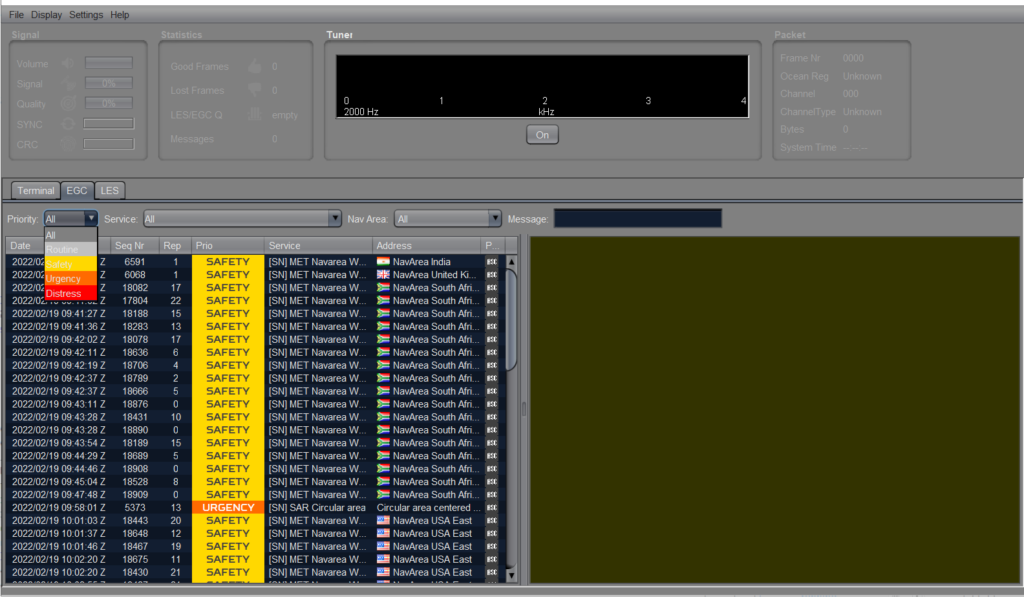 Installation
Tested under the following platforms. Detailed installation instructions here.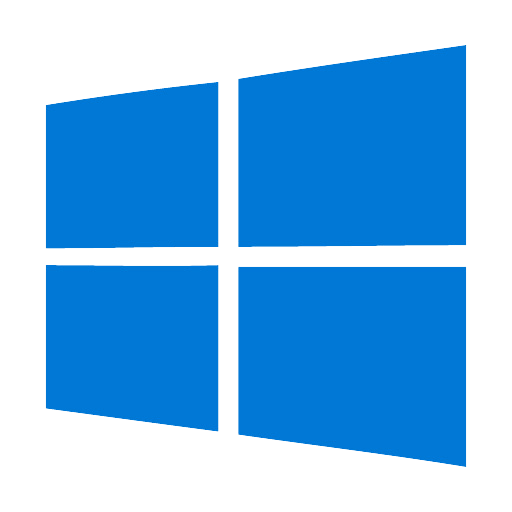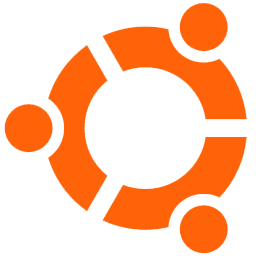 ---
Links
Useful for getting a first rough estimate of where to point the sat dish or patch
www.dishpointer.com
SDR receiver manufacturer
https://www.sdrplay.com/
---